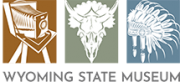 The Wyoming State Museum will host Pajama Party, a Family Day celebrating the amazing changes nature goes through as the weather gets colder each winter, on December 4 from 10 am to 2 pm.
Visitors will learn about our winter world by participating in games and activities, seeing artifacts and specimens up close, and making adorable crafts that can double as holiday gifts for loved ones. Take-home crafts will be available for those families who would prefer to enjoy this event from home.
In order to keep everyone safe, the museum will require timed registration to participate in this event. Families can register for free at https://bit.ly/3n2kPwv or they can register by calling the museum at 307-630-2573.
Family Days are generously sponsored by Scheels in Johnstown, CO. Thanks to their support, these events are always free and open to everyone!
The Wyoming State Museum is located in the Barrett Building, 2301 Central Ave. in Cheyenne. Please call 307-630-2573 for more information.
Family Day fans can follow the museum's Facebook and Instagram accounts to stay in the know about upcoming events: @wyomingstatemuseum.