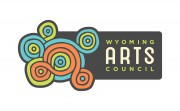 WYOmericana Caravan Tour Dates Announced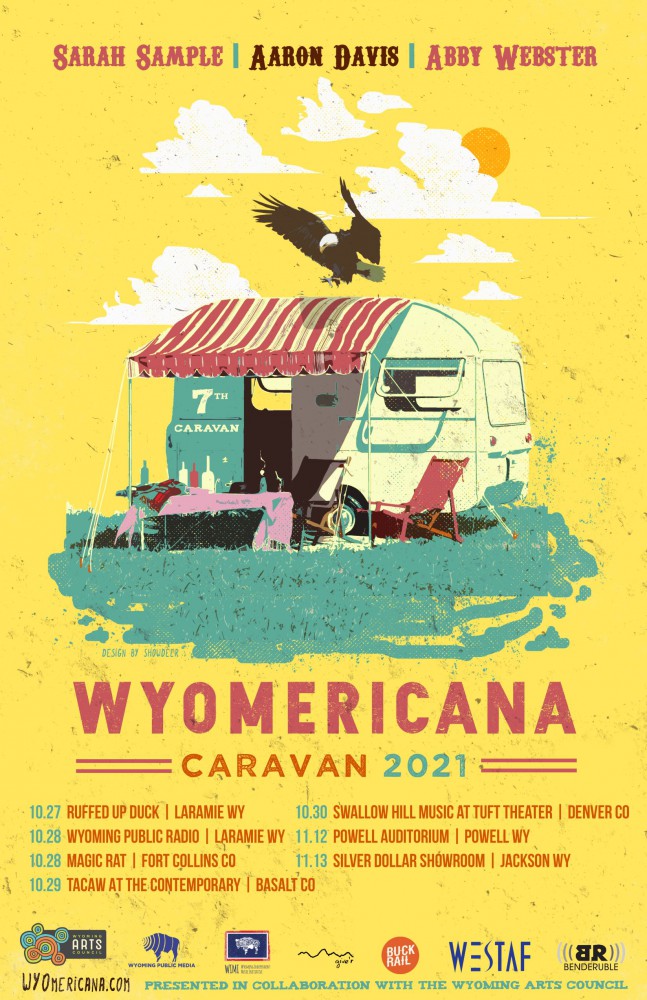 In partnership with the Wyoming Arts Council, the seventh annual WYOmericana Caravan Tour will make a seven-show jaunt through the region featuring Wyoming musicians Sarah Sample (Sheridan; trio), Aaron Davis (Hoback; duo), and Abby Webster (Wilson; solo).
Artists will perform individual sets with the addition of ad-libbed cross-band collaborations, and a closing set that includes all members of the tour on stage simultaneously, taking chances and blending talents—adding a camaraderie element absent from most modern day traveling shows.
In an effort to make a deeper connection with both rural and urban communities on the 2021 tour, an all-ages songwriting master class, "Songcraft & Sense of Place: A WYOmericana Perspective," will be offered for free in select markets and taught by the artists.
The WYOmericana philosophy is to propel Wyoming's original music scene as an artist collective, exhibiting to the world that there's a stellar creative spark in the country's least populated state. The talent pool of Wyoming songwriters is booming and it's rising up from every corner of the state.
There will be limited venue capacities, mask requirements for venue staff, crew, and musicians when not performing, among other precautions onstage and off. Concertgoers will also be encouraged to wear masks and gather responsibly with awareness for social distancing and safety measures in light of the ongoing COVID-19 pandemic. Live music and local venues depend on it.
This year's grassroots tour is made possible through the generous support of WESTAF, Wyoming Arts Council, Wyoming Public Media, Give'r, Buckrail, BendeRuble Sound (the tour's traveling sound engineer), and Showdeeer (poster artist.)
Real time updates will be available via the WYOmericana Facebook and Instagram pages and WYOmericana.com.
WYOmericana Caravan Tour - Fall 2021
Oct. 27 Ruffed Up Duck | Laramie WY 10.28 Wyoming Public Radio | Laramie WY

Oct. 28 Magic Rat | Fort Collins CO

Oct. 29 TACAW at The Contemporary Theatre | Basalt CO

Oct. 30 Swallow Hill Music at Tuft Theatre | Denver CO

Nov. 12 Powell Auditorium | Powell WY

Nov. 13 Silver Dollar Showroom | Jackson WY
2021 WYOmericana Caravan Artist Bios
Sarah Sample (Sheridan) Sarah Sample is an award-winning songwriter with a "raw, graceful voice" (Salt Lake City Weekly). Performing as a trio with guitarist Dylan Schorer and drummer Fred Serna, her beautiful songs weave a trail of stories through folk, Americana and country, garnering comparisons to Sheryl Crow, The Weepies, and Bonnie Raitt. "Redwing," Sample's sixth album, features more of her cut-to-the-bone storytelling, framed with empathy and compassion, and told with the best singing of Sample's career. Redwing is—among other things and in the grand tradition of albums—a breakup album. But this was no romantic heartbreak; Sample's breakup was spiritual. She left the committed religion of her upbringing (and its stringent rules and by-the-book lifestyle) to chart her own spiritual course. Her previous release with songwriter Edie Carey, "'Til The Morning,'' won Best Children's Album in the 2014 Independent Music Awards. Sample has performed at Merlefest, Folks Fest, Telluride, and Kerrville, and has won songwriting contests at most of these. She has warmed-up stages for Darrell Scott, Steve Martin & The Steep Canyon Rangers, and Over The Rhine.
Aaron Davis (Hoback) is chiefly known as co-founder of decade-long national touring act Screen Door Porch and his eclectic quartet Aaron Davis & the Mystery Machine. The multiinstrumentalist, engineer-producer, and vocalist will stage a duo show on acoustic/resonator guitars, banjo, harmonica, and percussion along with longtime collaborator David Bundy (bass, harmony vocal). Aaron works the lesser-worn corners of the American musical fabric through an unconventional lens. Slide banjo? Detuned guitar made of metal? You bet. From "searing slide guitar" (Country Weekly) echoing mid-century acoustic blues, to a patchwork of story folk and roots music, pensive alt-country, and an improvisational prowess, Aaron has been described as a "truly phenomenal songwriter" (Americana UK) with "a particularly interesting approach that mixes poetry, groove and roughness" (Lonestar Time) and "a combination that goes down like top-shelf bourbon" (Austin Chronicle). He has shared bills with many of his heroes—Wilco, Willie Nelson, Jason Isbell, Buddy Guy, Sam Bush, Brian Wilson, James McMurtry, and Hayes Carll. In conjunction with a Performing Arts Music Fellowship from the National Endowment of the Arts, Aaron just put out his tenth release, Catalyst.
Abby Webster (Wilson) has quickly established herself as an artistic force in the regional music scene, dry wit with raw honesty, the avant-garde lyricist's songs are filled with metaphor and dark humor, though they are just as whimsical as they are visceral. These elements are tied together in her recent single, "88 Constellations," which drops Sept. 20. In addition to her various releases as a solo artist, she also releases music with an electronic duo, Ski Lift. Webster received a 2021 Performing Arts Fellowship in Music from the National Endowment for the Arts—a merit-based honor for an artist's work in their field.
---
Image caption: WYOmericana Poster.