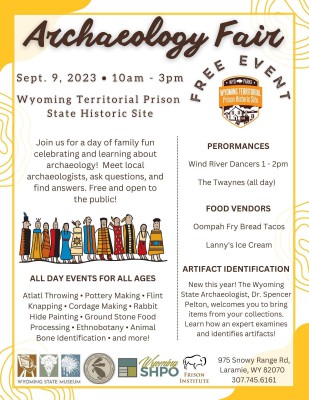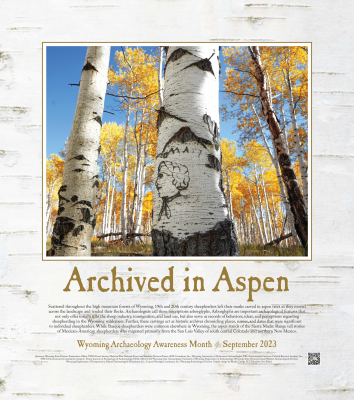 In celebration of Wyoming's rich cultural heritage, Governor Mark Gordon will proclaim September as Wyoming Archaeology Awareness Month (WAAM) on September 19.
Throughout the month of September, there will be events, activities, and lectures highlighting Wyoming's history. To find an event near you, check out the WAAM 2023 Events Calendar.
The largest event, the Wyoming Archaeology Fair, has become a beloved annual celebration and will be held Saturday, September 9, from 10 a.m. to 3 p.m. at the Wyoming Territorial Prison State Historic Site in Laramie.
The fair will showcase Wyoming's cultural traditions including Indigenous lifeways and historic activities, and provides a unique, hands-on learning experience for all ages. The event is free and open to the public. We are also delighted to announce the return of the Wind River Dancers, who will demonstrate a variety of Indigenous dance styles. The Wind River Dancers will perform at 1 pm
Attendees are invited to try their hand at flint knapping, atlatl throwing, and pottery making, as well as hide painting, cordage making, yucca leaf processing and more. Additionally, attendees will have an opportunity to meet local archaeologists, ask questions, and find answers. New this year, the Office of the Wyoming State Archaeologist welcomes you to bring items from your collections to learn how an expert examines and identifies artifacts. We hope to see you there!
The centerpiece of WAAM is an annually produced, award-winning poster. This year's poster, "Archived in Aspen," highlights historic arborglyphs, which are drawings and messages carved into trees that are scattered throughout Wyoming's bountiful forests. These striking cultural features were created by generations of sheepherders who spent their summers in the mountains, watching after their flock, helping to grow the sheep industry. While many folks may know of the Basque sheepherding tradition in the West, the arborglyphs of the Sierra Madre Range in the Medicine Bow National Forest were predominantly the product of Hispanic Americans from northern New Mexico. This poster celebrates an archaeological feature that many Wyoming residents have likely seen while in the forest, and provides information on the perhaps less well-known cultural tradition and history of the people behind the images.
The poster is available free of charge, and may be picked up at the State Historic Preservation Office, Barrett Building, 2301 Central Avenue in Cheyenne, or in Laramie in the Anthropology Building located at 12th and Lewis, Room 312. If you wish to have a poster mailed to you, email This email address is being protected from spambots. You need JavaScript enabled to view it. for details.